Chicken Mushroom Skewers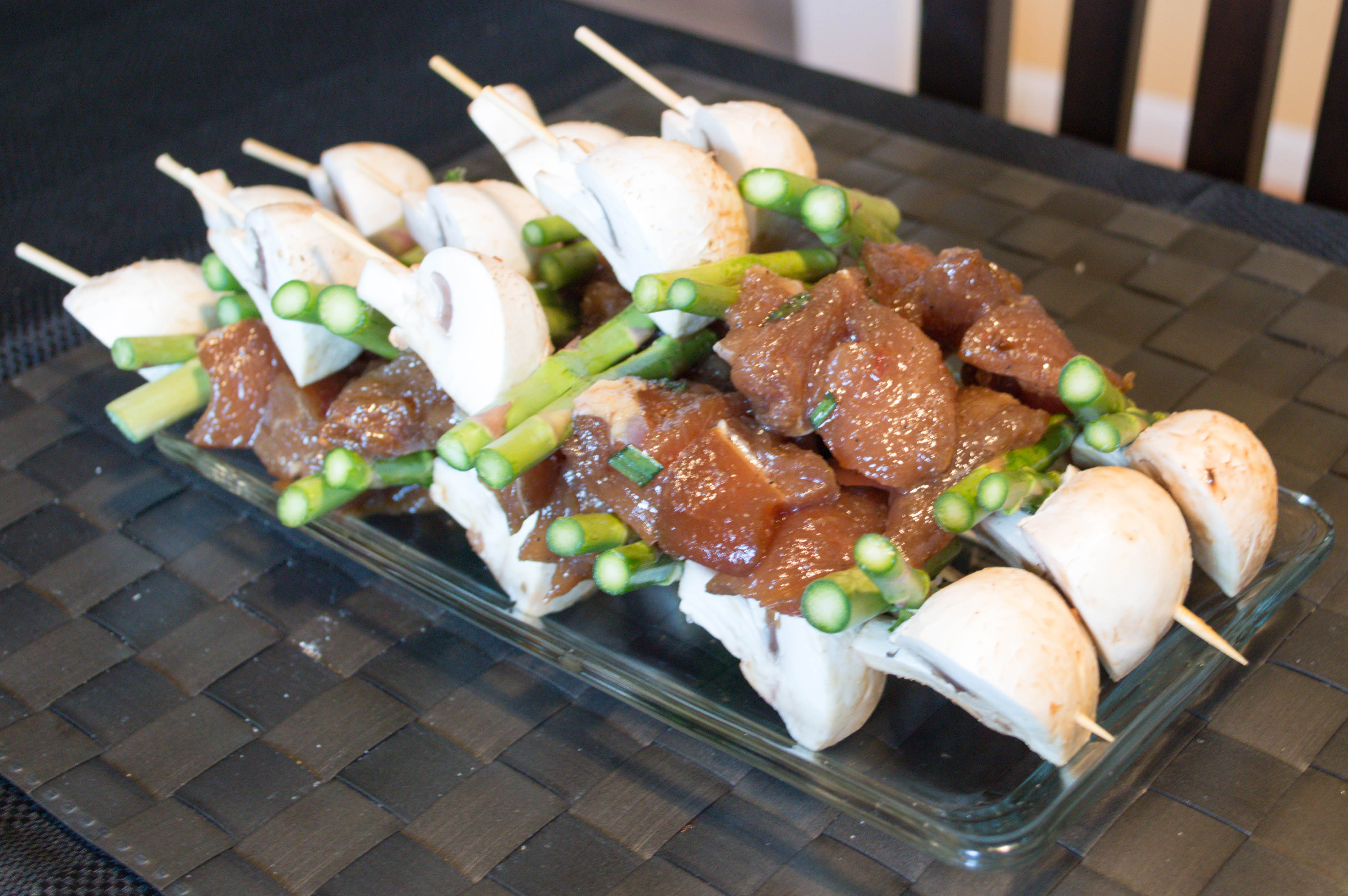 (13 skewers)
It's Labor Day Weekend and I just realized that summer is almost at an end and I have yet to post any barbeque recipes, yikes! I think everyone loves to break out the grill and going outside to enjoy the beautiful weather during this time of the year. Isn't it great to have sunlight at 8:00 at night? I remember feeling so much better leaving work in Long Island, NY when the sun was still out even though I was still working the same amount of time. (During the winter months I would lose the sun around 5:00 pm!!!)
Alas, grills were not permitted in our apartment complex so the summers came and went with us not being able to enjoy outdoor cooking. That being said, we've recently moved to our new home this year with a large backyard and patio area, so of course we plan on over using our newly purchased propane grill this summer! I know, grilling with propane doesn't give you that charcoal satisfaction. But to be perfectly honest, I enjoy not having to take 15-20 minutes to get the grill ready with the charcoal and then having to clean up the residual ashes on top of the grill itself.
Usually, I like to marinate some chicken thighs or drumsticks and pop them on the grill. However, it has been ages since I've made "meat-on-a-stick" as my husband would call it so I decided to make chicken skewers with the chicken breast left over from my other culinary escapades. As a lover of dark meat, normally I would debone chicken thighs for this recipe as I find it to be more moist and flavorful. On that note, be careful not too overcook the chicken breast or it'll become dry.
Who doesn't like some food on a stick right? It travels well for when I am chasing Evie around the yard trying to keep her out of trouble. I adore the color contrast on the skewers and the flavors are so complimentary. Although skewering everything does take a little time, I find it can spark some creative fun as well as a great way to have a lively chat during cooking parties. I think next time I will be getting the larger asparagus to make skewering a little easier. As always, I hope you enjoy this recipe and please let me know what you think!
1/2 tsp black pepper

1. Mix well in a zip lock bag.

1 tsp sugar

1/2 tsp salt

2 tsps garlic, minced

2 tsps onion, minced

1 tsp ginger, grated

3 tbsps oyster sauce

3 tbsps low sodium soy sauce

2 tbsps sake

3 tbsps honey

1 tbsp garlic chili

1 tbsp sesame oil

2 tbsps scallions, chopped

2. Toss into the zip lock, remove air and close.

3. Massage the chicken to ensure the marinade is incorporated.

4. Refrigerate overnight or up to 3 days.

1 lb chicken breast cut into 1 1/2" cubes (or dark meat)

13 Bamboo skewers 8"

5. Soak bamboo skewers in the water for at least 30 minutes.

Water

13 Large button mushrooms cut in half (26 pieces)

6. Start by skewing one mushroom piece, followed by 2 asparagus pieces, then 2-3 pieces of chicken, then 2 asparagus pieces and finish off the skewer with one mushroom piece.

7. Repeat until done.

8. Pop on a heat grill until cooked through, rotating once.

9. Serve immediately.

18 Asparagus cut into 1 1/2" pieces (52 pieces)
---
---
blog comments powered by

Disqus