Vietnamese Savory Crepes (bánh Xèo)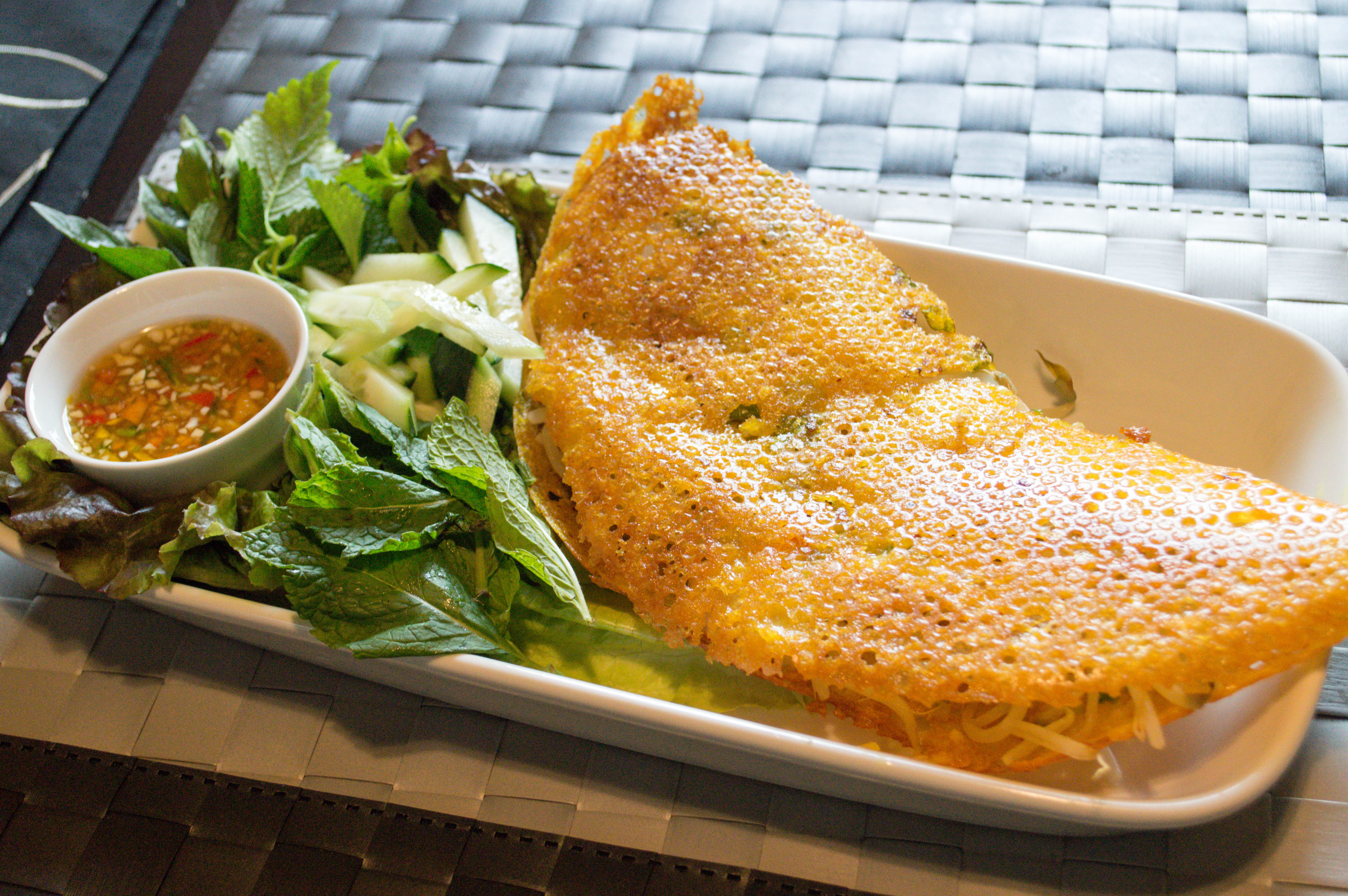 (Serves 6)
The Vietnamese Savory Crepe (Bánh Xèo) is a very popular item on the Vietnamese menu. It was definitely popular in my house when I was a child and still is now with my husband and daughter. He has been hooked on this dish since I first introduced him to it years and years ago while we were dating. I guess the old adage, "A way to a man's heart is through his stomach" is not that far-fetched. Seriously though, this dish gives you the best of everything. A crispy, crunchy, fragrant crepe on the outside, stuffed with shrimp and bean sprouts and paired with a pungent dipping sauce and herbs and vegetables galore. What more do you want? I can recall a time where I could down a basket of herbs and veggies with just one or two crepes!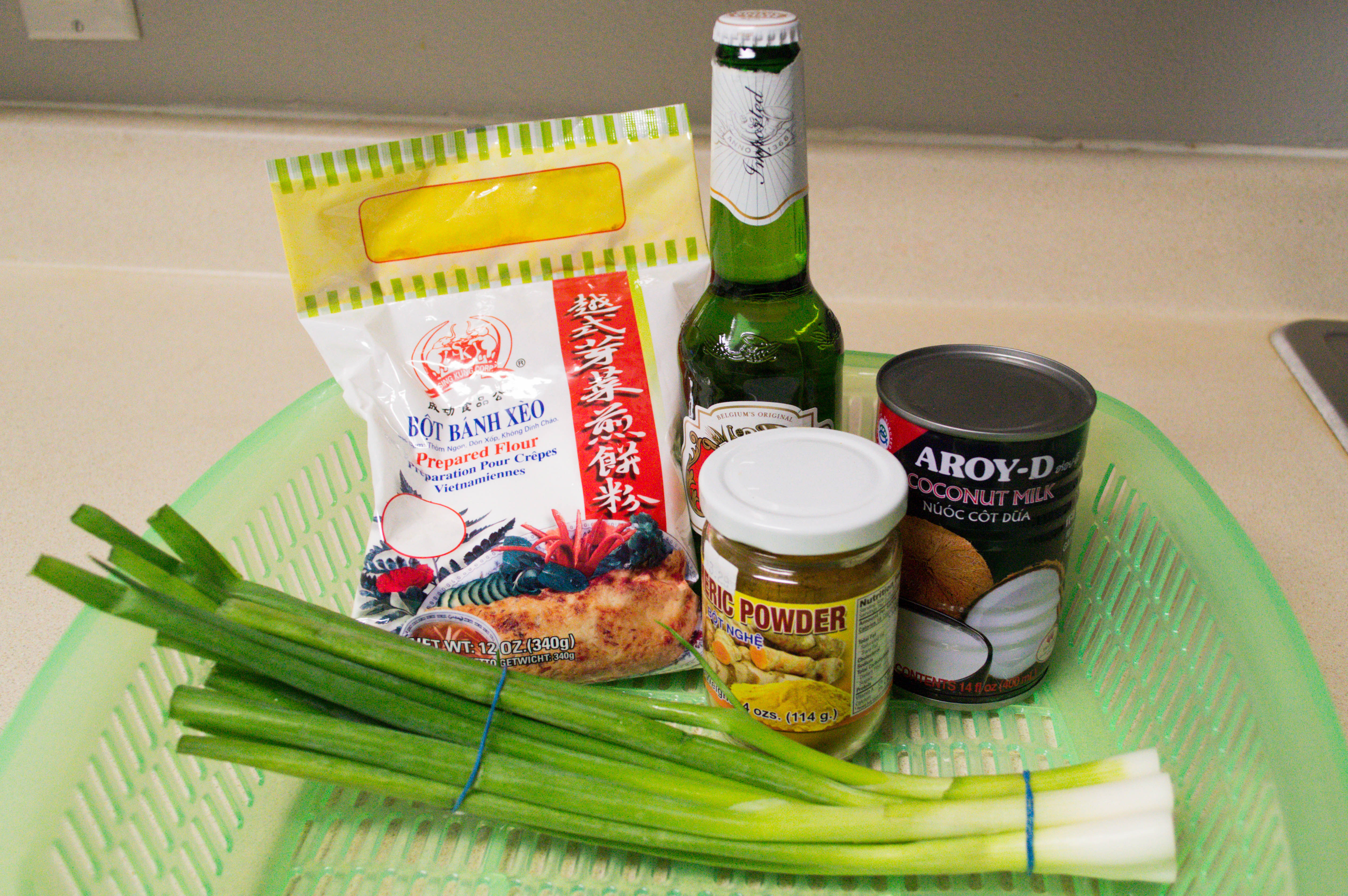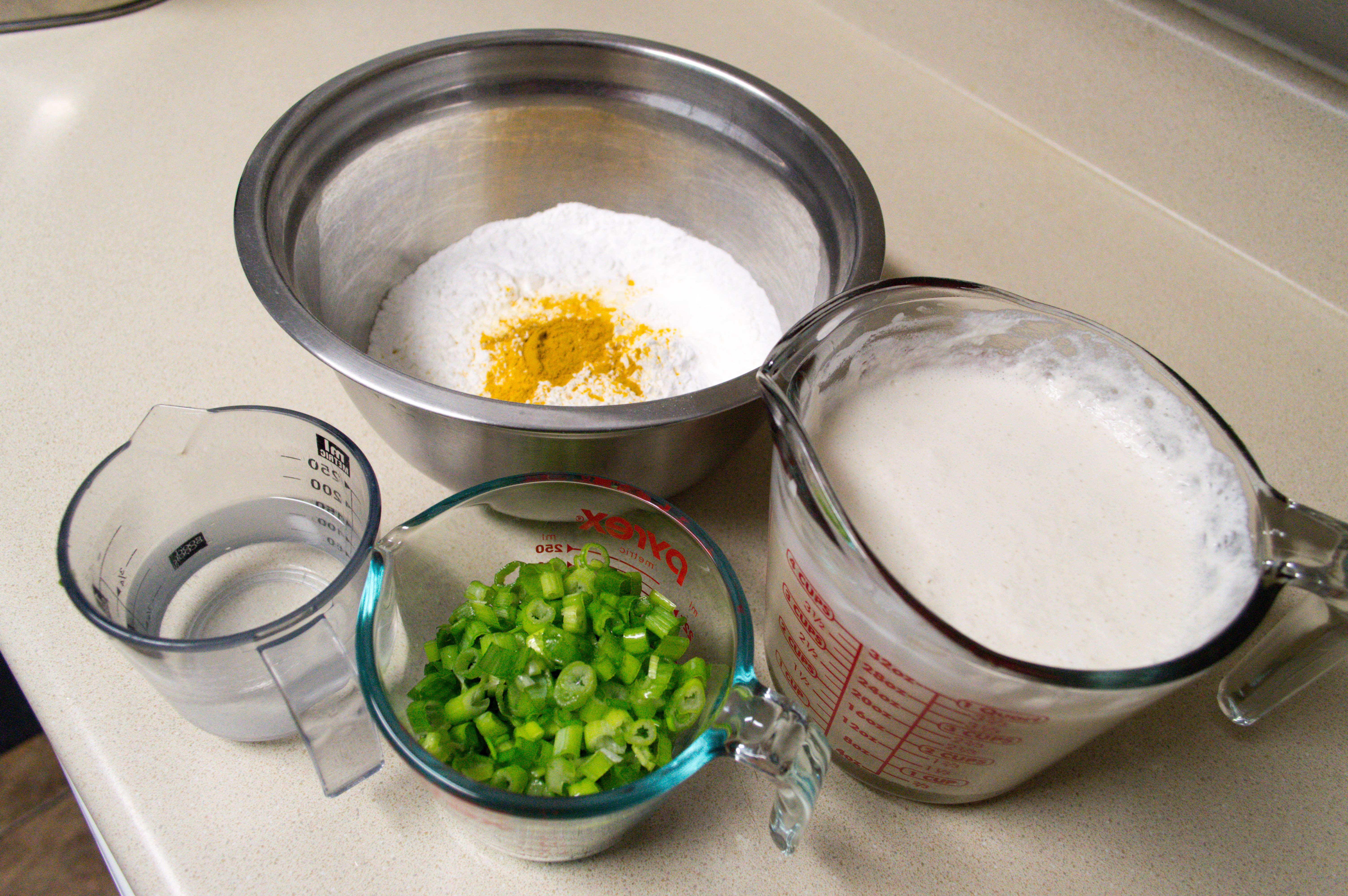 I'm going to be candid here, there is a bit of work you need to put into prepping for this meal. Aside from what is stated in the recipe, there is also the dipping sauce you need to make and lots of vegetables and herbs to wash and sort but it is so worth the trouble. Below I have a list of vegetables and herbs that are usually eaten with Bánh Xèo that you can refer to if needed. You can eat these amazing crepes on it's own but when paired with the herbs and vegetables, the flavor profile just soars exponentially. Also, don't skip out on the dipping sauce as it brings everything together.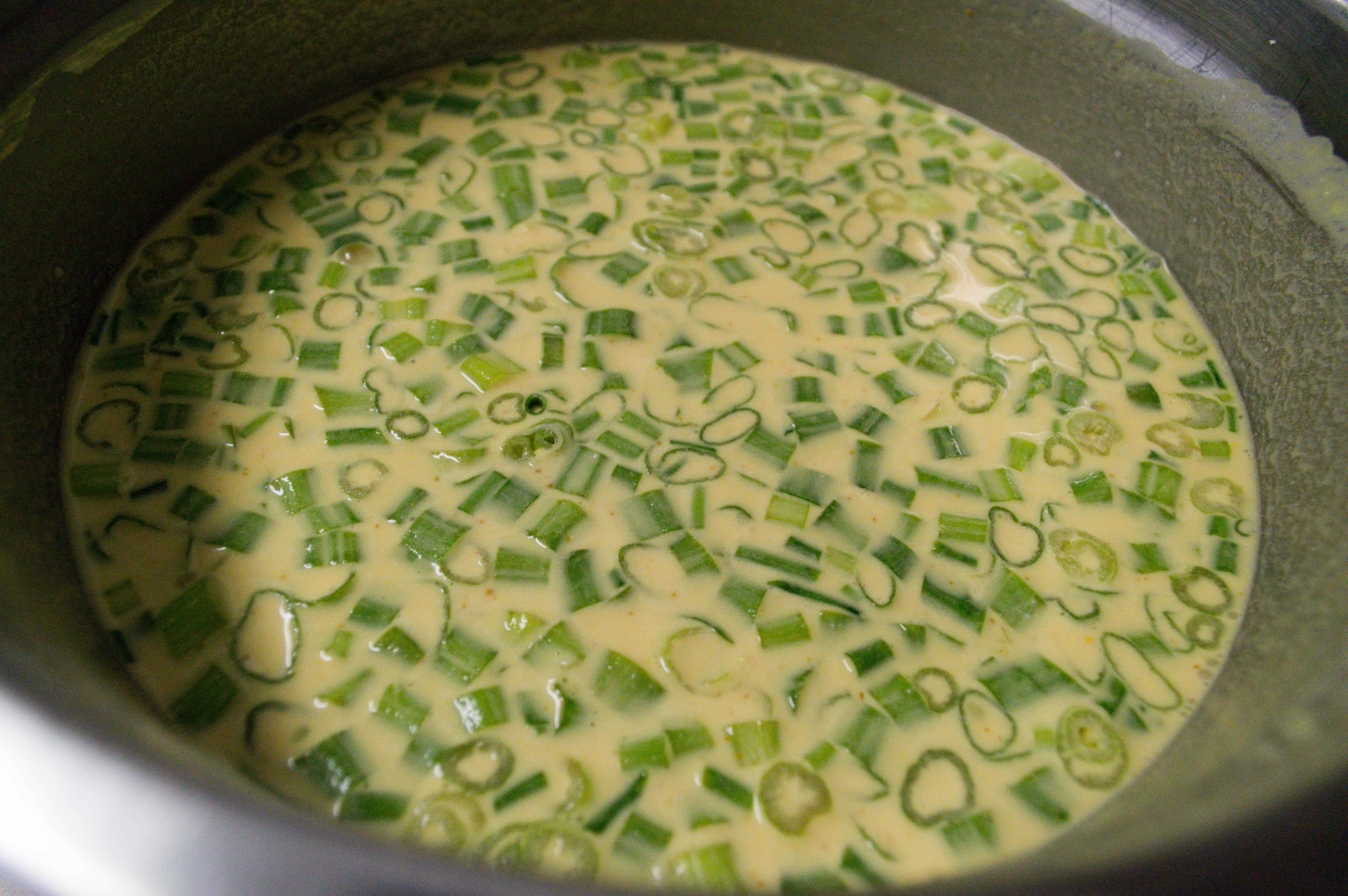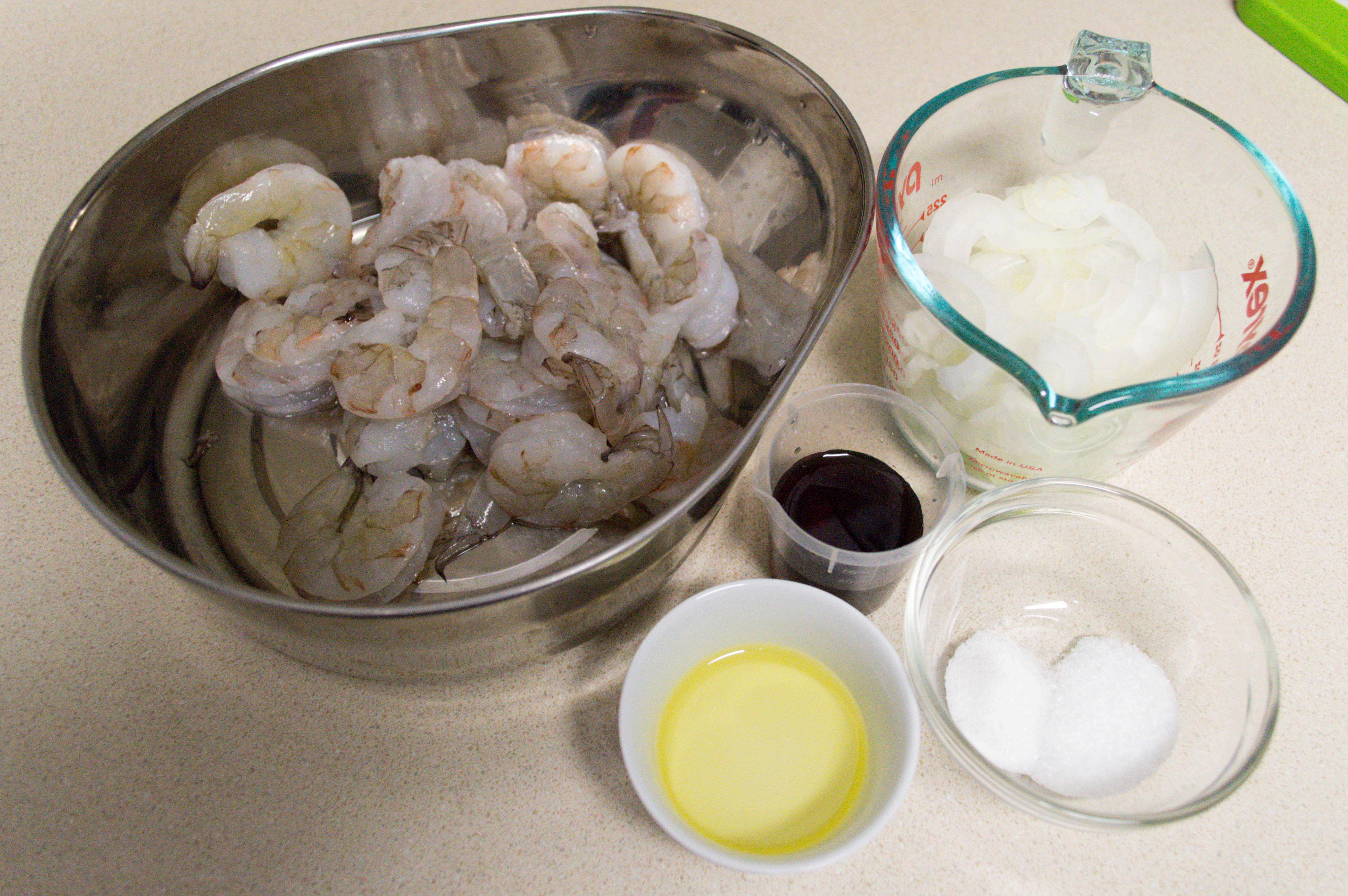 There is a learning curve when it comes to perfectly cooking these crepes. When I made my first Bánh Xèo, I had a lot of trouble keeping it intact and not soggy. Practice does makes perfect, I promise. Adding the beer instead of water really help with fixing the batter to make a crispy crepe which helped keep the crepe intact for that beautiful presentation effect. I have added some tips along with the instructions that should help you make the perfect crepe. Please enjoy and let me know how it goes!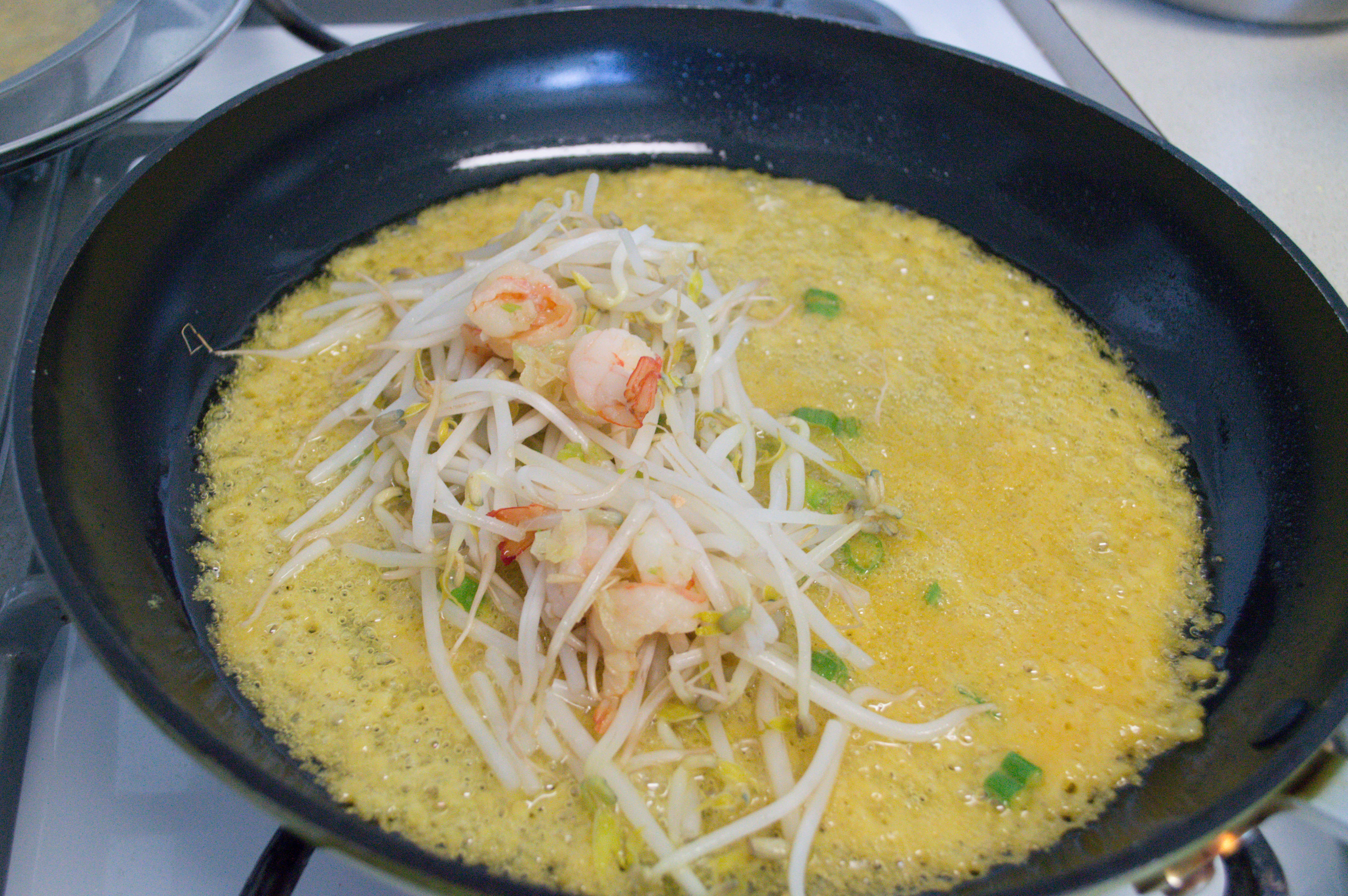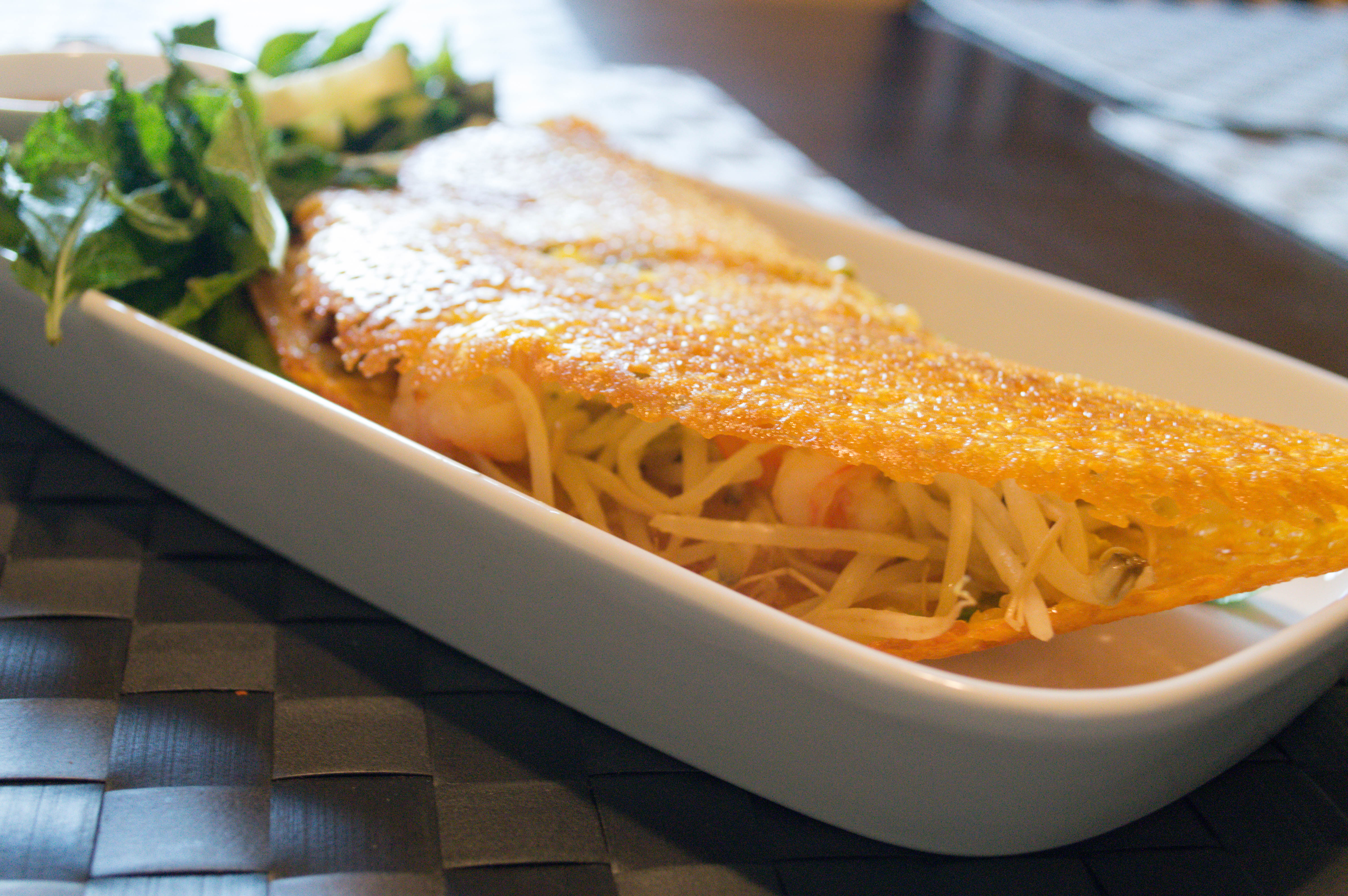 12 oz Bánh Xèo Flour Mix (1 package)

1. Mix until everything is well incorporated.

1 tsp turmeric

2 bottle of beer (11.2 oz each, I used Stella Artois)

1 cup coconut milk

2/3 cup water

2 drops red food coloring (optional)

4 drops yellow food coloring (optional)

1 1/4 cup scallions, green only, chopped small

2. Stir in the scallions and refrigerate the batter for at least one hour or overnight for best result.

(NOTE: The batter keeps for about 3 days.)

1 lb of shrimp, shelled and deveined

3. Washed, dried and cut it half lengthwise if large.

1 tbsp olive oil

4. On medium high heat, sauté scallions and onions together with seasoning for about 2 minutes.

1/3 cup scallions, white only, chopped

1/2 cup yellow onion, sliced thinly

1/4 tsp salt

1/2 tsp sugar

1/4 tsp msg (optional)

1 tbsp fish sauce

5. Increase to high heat, toss in the shrimp and fish sauce and cook until the shrimp turns pink. About 5 minutes.

6. Set this filling aside.

2 tbsps of vegetable oil

7. Heat oil on medium high heat in a large non-stick pan with a lid.

8. Lift the pan off heat, pour in about 2/3 cup of the batter and swirl it around to cover the pan.

(NOTE: Make sure the oil is hot so that there is a nice sizzle when you pour in the batter.)

9. Lower to medium heat and place the pan back on the stove.

10. On half of the crepe add 1 cup of bean sprouts and 2 tbsps of the filling.

11. Cover and let cook for about 2 minutes.

12. Remove the lid carefully to prevent water from dripping into the pan and wipe the lid dry.

13. Cover and cook for another few minutes until it's golden on one side and begins to pull away from the pan.

14. Fold the crepe in half over the stuffing and serve immediately with dipping sauce and herbs and vegetables.

15. Repeat steps 7-14 until you run out of ingredients.

10 cups bean sprouts
Typical Vegetables and Herbs to Serve with Bánh Xèo

Cucumbers

Cilantro

Lettuce

Perilla Leaves

Mint

Vietnamese coriander

Thai Basil

Vietnamese balm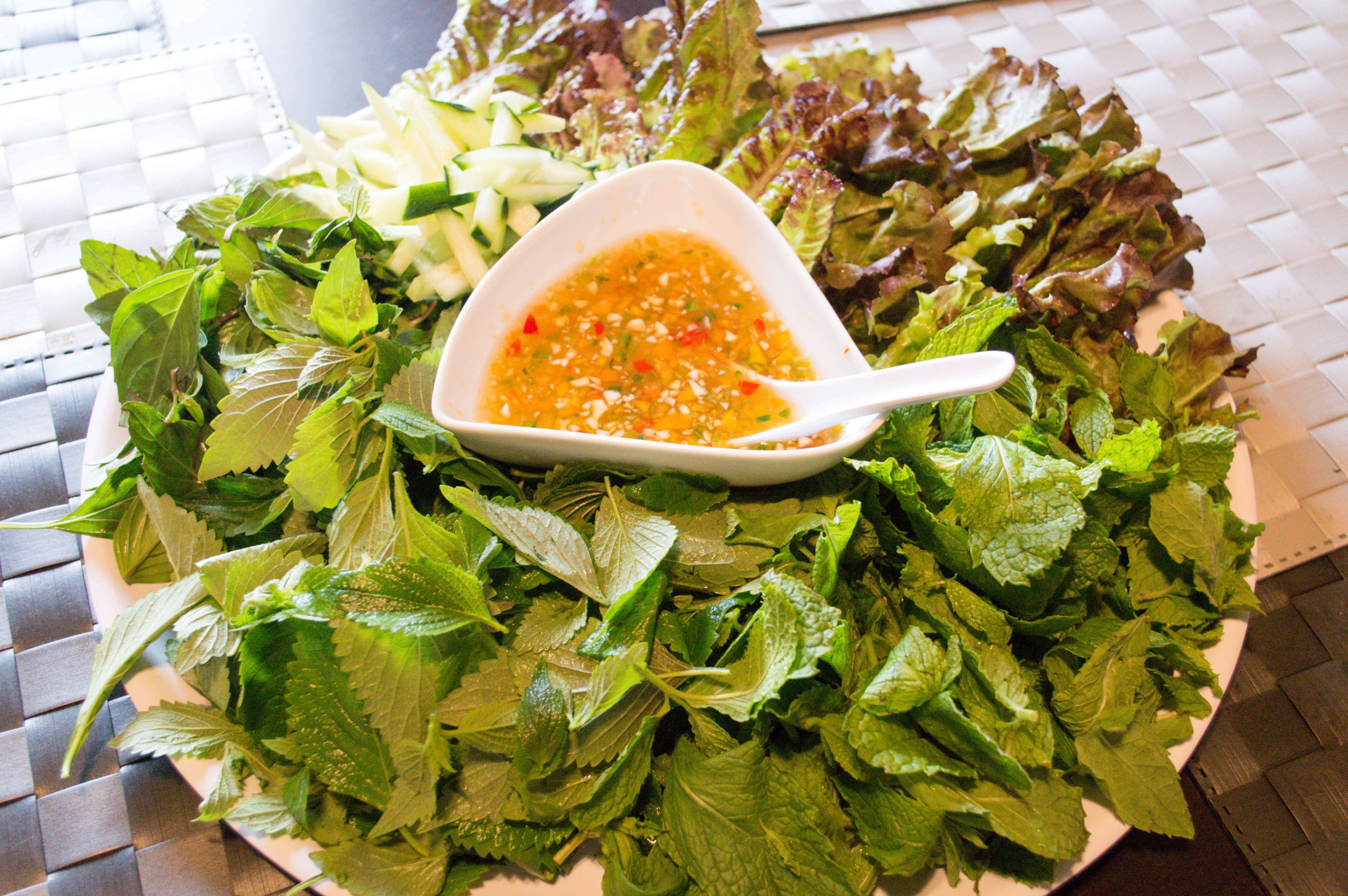 Lime Fish Sauce Dressing (makes 3 cups)

1 cup simple syrup

1. Mix together well. (Keeps in the refrigerator for a couple of weeks.)

1/2 cup fish sauce

1/4 cup water

2 cup fresh lime juice

3 tbsps garlic, minced

2-4 thai chili, minced

1/2 jalapeño, minced
---
---
blog comments powered by

Disqus